Last night I was able to attend the second preview evening for The Wool House before this evening's grand opening. For those of you who will be reading this beforehand, the ribbon cutting ceremony is scheduled for 18:00.
Upon entering the building, one of the first things I noticed was the music playing. It was the same style of blues music you will hear playing in The Platform Tavern if you visit there. As Aidan said when I mentioned the similarity, their taste in music isn't going to change.
In terms of the bars, there are 8 cask taps downstairs, and four upstairs. With the exception of Last Waltz and Congo Driftwood, the full core range was represented, alongside First Dance (the first brew on the new kit) and Sea City Gold (the beer brewed to celebrate Southampton's 50th year as a city in 2014).
As well as the additions of many tables and chairs, one thing that has been improved since I was last in the building is the lighting. It makes a big difference too. In a previous post in this series, I said that The Wool House felt smaller than The Platform. Now that the tables and chairs are in, and the lighting has been improved, that clearly isn't the case.
Some of the walls have had framed pictures put on them, with many of the images relating to the Titanic. Next to the Timber Jib Frame, stands a metal robot. Looking at the photo that I took last night, I wonder if it is supposed to be dancing. On the opposite side of the building, near the entrance to the brewery itself, is a smaller metal robot. These additions could easily feel out of place, yet in a way, they add to the industrial feel of the building.
I'm going back tonight for the proper opening, I'm expecting it will get busy. These are only my first impressions. Whilst I enjoyed the beer, I've chosen not to say anything about it. In a couple of months time, once everything has settled, I'll come back to do a more detailed post. For now though, I'm going to celebrate that the new place is finally here, and drink a lot of beer.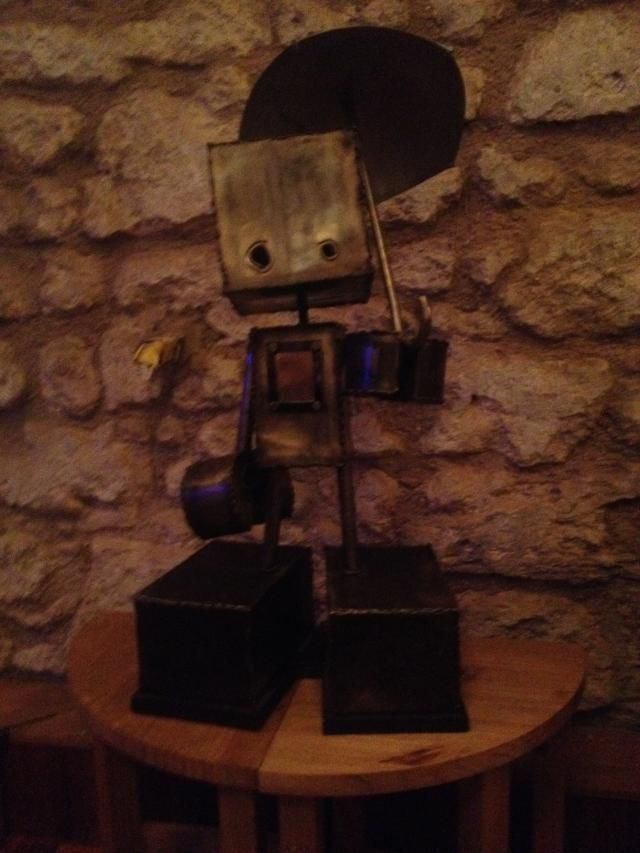 (479)